Hokkaido Culture Column
The Shiretoko-Nemuro area, lies in the easternmost reaches of Hokkaido
Wildlife and humans, nature, land and sea in harmonious coexistence
A Wildlife Paradise – Shiretoko and Nemuro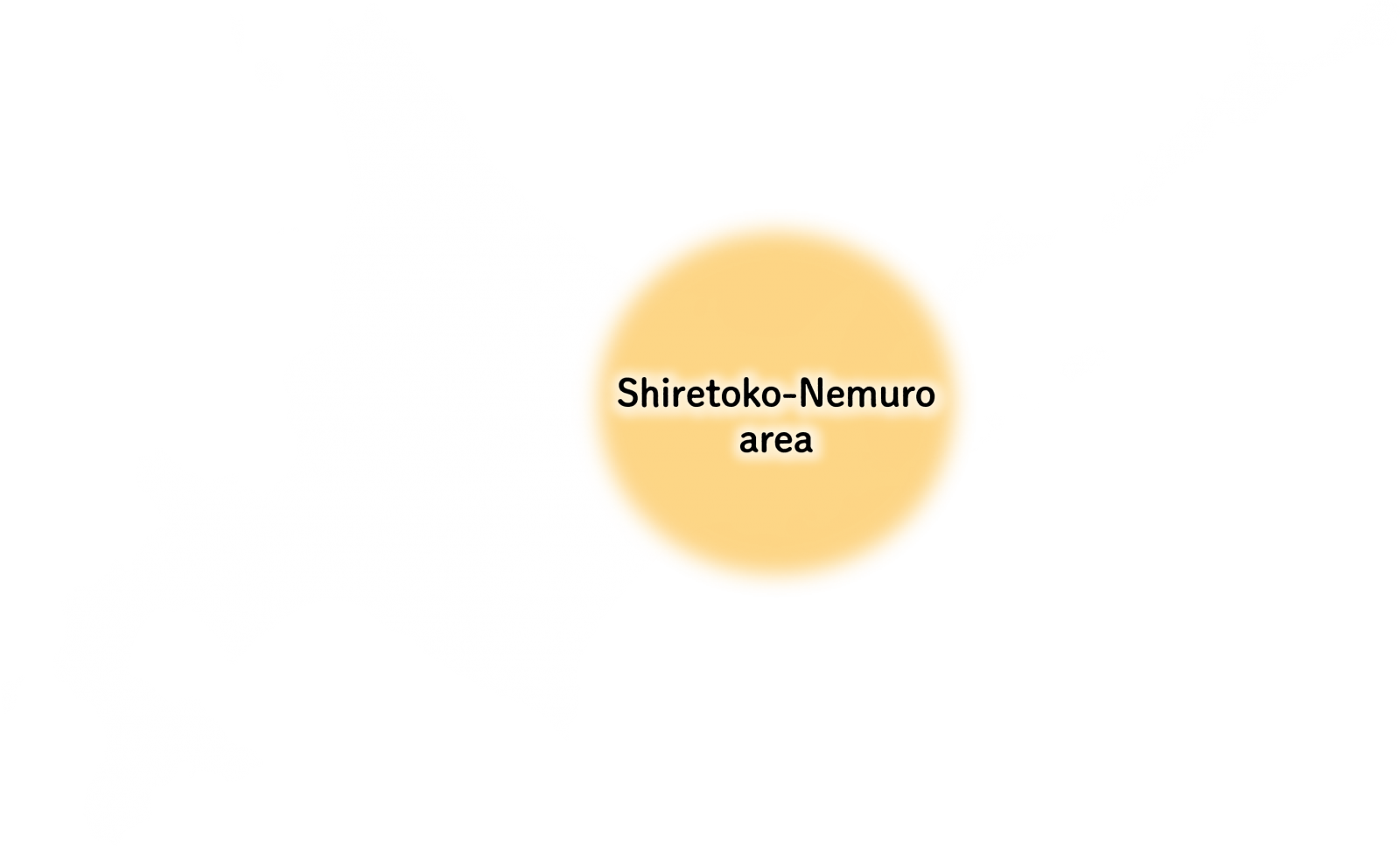 Wildlife
The Shiretoko-Nemuro area lies in the easternmost reaches of Japan's northern island of Hokkaido. Nemuro Nakashibetsu Airport acts as the main gateway to Shiretoko from the east, while Memanbetsu Airport and Kushiro Airport are also less than two hours away by car.
The Shiretoko Peninsula makes up a large proportion of Shiretoko's natural World Heritage site and Shiretoko National Park. It is also the southernmost point in the northern hemisphere to receive drift ice, which flows from the Amur River in Russia and blankets the sea in frozen sheets each winter. It also carries phytoplankton down from the north, fostering a diverse marine ecosystem reminiscent of an aquarium on the open seas.
Fish are a crucial part of this ecosystem, with salmonids playing a more central role than most. They are abundant in both number and variety, and species such as chum salmon and humpback salmon move between the rivers and sea, forming a key part of the diet of animals such as brown bears, foxes, and endangered birds of prey such as Blakiston's fish owls, Steller's sea eagles and white-tailed eagles. The contribution that salmonids make to supporting the nature of Shiretoko cannot be overstated.
The region is also home to a diverse range of spectacular landscapes, from rugged mountain terrain forged by volcanic activity to vast primeval forest, beautiful wetlands, stunning lake clusters, and cliffs and sandspits carved into the landscape by erosion from wind and drift ice.
The topography and climate of these distinct landscapes are assets for the local people, provide breeding grounds and resting areas for migratory birds, and create the ideal conditions for the coexistence of northern and southern species of seabirds.
Simply put, the Shiretoko Nemuro area is a treasure trove of varied natural landscapes and wildlife that come together to form an abundance of rich ecosystems, all within a radius of just 200km. Amidst this rich nature, local people also base their way of life on the blessings of land and sea through means such as fishing and dairy farming, striving to protect and restore the natural environment around them as they do so.
The area's outstanding feature is the sheer amount of wildlife to be found. Whether it be from a boat or during any number of outdoor activities, there is no shortage of opportunities observe the local wildlife while maintaining a respectful distance.
As can be seen below, the wildlife that can be seen varies throughout the year.
The Shiretoko-Nemuro area is also renowned as a home for a variety of flora and fauna, including rare seabirds such as the tufted puffin and spectacled guillemot. For this reason, it is considered something of a mecca for birdwatchers from all over the world.
To call it a wildlife paradise is no exaggeration.
To enjoy this abundant nature in safety and comfort, the right clothing and equipment are essential. Temperatures in summer are comfortable, with relatively temperate highs of 25°C (77°F) and lows of 14°C (57°F). In winter, however, temperatures can fall to -20°C (-4°F) and may not go above 0°C (32°F) for several days in succession. There is also significant snowfall to contend with, even though it may not reach the levels found elsewhere in Hokkaido.
When heading out to sea on a winter cruise in search of birds of prey, clothing that is warmer still is needed to contend with the harsh cold that awaits on the water. Binoculars and a camera are also recommended to get the best view possible.
Seasons and Climate
The majority of the Japanese archipelago lies in the temperate zone, meaning that it is relatively warm and experiences a large amount of rainfall. However, weather conditions vary significantly depending on the region or the season. This is partly due to the fact that Japan covers a long latitude range (approximately 25 degrees). The country's many mountain ranges also have an impact on the climate of the surrounding areas.
Hokkaido is the most northernmost of Japan's four main islands and has a mostly humid continental climate. The relatively mild heat and humidity mean that summers are generally more comfortable than in other parts of Japan, however, the island experiences severe cold and large amounts of snowfall in winter.
Source: Japan Meteorological Agency (1991 – 2020)  
Source: Japan Meteorological Agency  
▶︎ Spring
---
■ Tokyo
(March – May)
In spring, the weather starts to get warmer as the cold of winter recedes.
While temperatures above 15°C (59°F) are common during the day, there can be a significant difference between daytime and nighttime temperatures. The cherry blossom season is generally around late March and early April.
What to Wear
・Sweater or cardigan
・Jacket or light coat
■ Sapporo
(April – May)
In early April, the weather remains relatively cold and snow can still be seen on the ground. Although the weather begins to get warmer at the start of May, morning and nighttime temperatures can be significantly lower than during the day.
The cherry blossom season is generally around late April and early May.
What to Wear
・Heavy coat in April
・Gloves, scarf, etc.
・Waterproof shoes
・Jacket or light coat in May
・Sweater or cardigan for layering
▶︎ Summer
---
■ Tokyo
(June – August)
Tokyo's rainy season lasts from early June to mid-July. This is followed by a period of high humidity, during which temperatures regularly exceed 30°C (86°F) for several days in succession and temperatures of over 35°C (95°F) are not uncommon. Even at night, temperatures regularly remain above 25°C (77°F).
What to Wear
・T-Shirt
・Sunscreen, hat and sunglasses
■ Sapporo
(June)
Although there are some warm days in late May and early June, summer has not yet started in earnest and temperatures may drop suddenly. Hokkaido's rainy season, known as Ezo tsuyu, lasts for about two weeks between June and July.
What to Wear
・Shirt or t-shirt
・Jacket or cardigan for layering
・Hooded sweater

(July – August)
During July and August, Hokkaido's pleasant summer weather attracts many visitors from all over Japan who are looking to get away from the stifling heat and humidity found elsewhere in the country. Maximum daytime temperatures can exceed 30°C (86°F), with slightly cooler mornings and evenings. Peak temperatures last for about two weeks, and the weather starts grow colder around late August.
What to Wear
・T-Shirt
・Sunscreen, hat and sunglasses
・Long sleeve shirt for layering in late August
▶︎ Autumn
---
■ Tokyo
(Spring- October)
This period is known as typhoon season, and low pressure systems bring heavy rain and strong winds to the city. September is still relatively hot, with slightly cooler temperatures and a number of pleasant sunny days in October. Colorful autumn leaves can be seen from late October to early November.
What to Wear
・T-Shirt in September
・Long sleeve shirt in October
・Jacket or sweater in November
■ Sapporo
(September – October)
In September, temperatures are slightly cooler and more comfortable than in summer.
Typhoons are not as frequent as on Honshu and cyclones that do reach Hokkaido from the south are weakened after having travelled over the reset of Japan.
Colorful autumn leaves can be seen in late September and October. Temperatures can also drop suddenly over the course of the day during this time.
What to Wear
・Light jacket or sweater in September
・Coat in October
▶︎ Winter
---
■ Tokyo
(December – February)
Temperatures are colder than in the autumn months. There is occasional snowfall, but snow rarely accumulates on the ground. The weather is relatively dry, with limited rainfall and a large number of sunny days.
What to Wear
・Sweater
・Coat
・Gloves, scarf, etc.
■ Sapporo
(November – March)
It starts to snow around late October and early November. In December, snow begins to accumulate on the ground as the average temperature falls below zero. January and February are the coldest months, with temperatures of -10°C (14°F) or lower. The snow starts to melt from late March.
What to Wear
・Sweater or cardigan as an inner layer
・Thick coat or down coat
・Winter hat, gloves, scarf, etc.
・Waterproof winter boots with non-slip soles
Industries
The main industries in the Shiretoko Nemuro area are fishing and dairy farming. Blessed by abundant water that has supported humans and wildlife since ancient times, the area's seafood is renowned for its high quality and was even presented to Japan's ruling shogunate over two hundred years ago. Nemuro Strait salmon have appealed to people throughout the ages.The livelihoods of the people, and repeated intercultural clashes and interactions that have continued for 10,000 years.
The history of this land is woven around the abundant natural resource that is salmon.At the end of the Edo period, one Aizu clan retainer focused his attention on this resource and nurtured the bud of the fishing industry.That bud grew into a key industry currently linked to dinner tables throughout the whole of Japan.
There is no end to the unique blessings brought by Shiretoko's unique marine environment. In addition to the salmon that supports its local ecosystems, the area's kelp is a key ingredient of dashi broth, which in turn forms the basis for the umami flavor that sets Japanese cooking apart as part of UNESCO's Intangible Cultural Heritage list. The kelp also provides sustenance for another local delicacy, sea urchin. Even when the lakes freeze over in winter, there is under-ice fishing using fixed nets—a practice found in only a few places around the world—while rods are used to catch saffron cod and smelt under the frozen surface. Delicious scallops abound when the drift ice begins to depart in spring, followed by succulent crab when the sea completes its emergence from under the ice.
Dairy farming is also indispensable to the region, and has provided a vital lifeline during temporary declines in fishing catches.
In addition to creating a vast landscape of pastures that can be seen from space—split into grid-like structures by beautiful windbreak forests—local dairy farms turn the blessings of the earth into rich, delicious milk and cheese that is enjoyed across Japan.
Visiting the Shiretoko Nemuro area is a unique opportunity to learn about the lives of local people working in the fishing and dairy industries, and to taste the fresh ingredients that are the fruits of the hard work they do each and every day.
Humans and nature, land and sea, in harmonious coexistence.
Come and experience this convergence of wildlife, people and natural landscapes for yourself.
Recommended plan