Japan's Far East 7-day Wildlife & Adventure Tour
Hokkaido's far east region is often described as the last unexplored frontier of Japan. The area is an ideal place to get in touch with mother nature and observe the flora and fauna which are unique to Hokkaido. On this tour we travel through a trio of National Parks that stand in eastern Hokkaido:, Kushiro Shitsugen Wetland, Lakes Akan & Mashu and Shiretoko Peninsula, the latter is also designated as a Natural World Heritage Area by UNESCO. During the journey we will also introduce you to local treasures, including the Ainu indigenous culture, the cuisine enjoyed by local fishermen, and the people who devote their lives to conserving the wetland and its inhabitants. Come join us on this tour to meet the wildlife and the charms of people who live in harmony with nature.

Kushiro city, Shari town, Akkeshi town, Hamanaka town, Teshikaga town, Betsukai town, Nakashibetsu town, Shibetsu town, Rausu town
No. EM000025 Japan's Far East 7-day Wildlife & Adventure Tour
Area
Kushiro city, Shari town, Akkeshi town, Hamanaka town, Teshikaga town, Betsukai town, Nakashibetsu town, Shibetsu town, Rausu town
Length
7 days
Price
From JPY 740,000
Season
June -October
Group size
Minimum: 4 Maximum: 10
Activity level
3*
Activities
• Canoeing
• Cultural experiences
Meeting point
• Kushiro Airport(KUH)
• JR Kushiro Station
Price includes
• 6 nights accommodation
• 6 breakfasts, 6 lunches, 6 dinners
• All the activity fees mentioned in the itinerary
•All transport as described in the itinerary 
• Snacks and refreshments
• English speaking Japanese guides
Clothing
• Waterproof jacket and pants
• Walking/Hiking shoes or boots
• Footwear that you don't mind getting wet during canoeing
• Fleece or down jacket (even in the summer the temperature can drop below 10℃/50℉)
• Thermal layers top & bottom
• Base layers top & bottom
• Gloves, beanie, and other items to keep you warm
• Sun hat
• Travel insurance
Items to bring
• Sunscreen
• Water bottle or hydration system of more than 1L
• Quick-dry hand towel
• Toiletries
• Personal medications
• Rain cover for backpack
• Backpack with enough capacity to carry all the above
• Sunglasses
Traveler's Digest
DAY 1
We'll meet between 1:00 pm and 2:00 pm in Kushiro City. Once everyone joins the group in Kushiro, we'll spend some time getting to know each other and the programme for our upcoming adventure, before we set off for a short walk on the Kushiro Wetland walkway. Registered as a Ramsar site (a wetland of international importance), Kushiro Shitsugen Wetland is the largest wetland remaining in Japan today, with an area of 22,070 ha (54,500 acres), bigger than the size of our capital Tokyo! After we enjoy taking in the views of the vast wetland, we'll travel by van for just over an hour to Lake Kussharo, which forms part of Lake Akan-Mashu National Park. Here we'll enjoy our first evening meal and a concert performed by Ainu, the indigenous people of Hokkaido. The dinner will consist of the fish caught on the lake as well as the ingredients that the Ainu often used for their daily diet. Located right on the shore of Lake Kussharo, our home for the night is furnished with a peaceful view of the lake.
DAY 2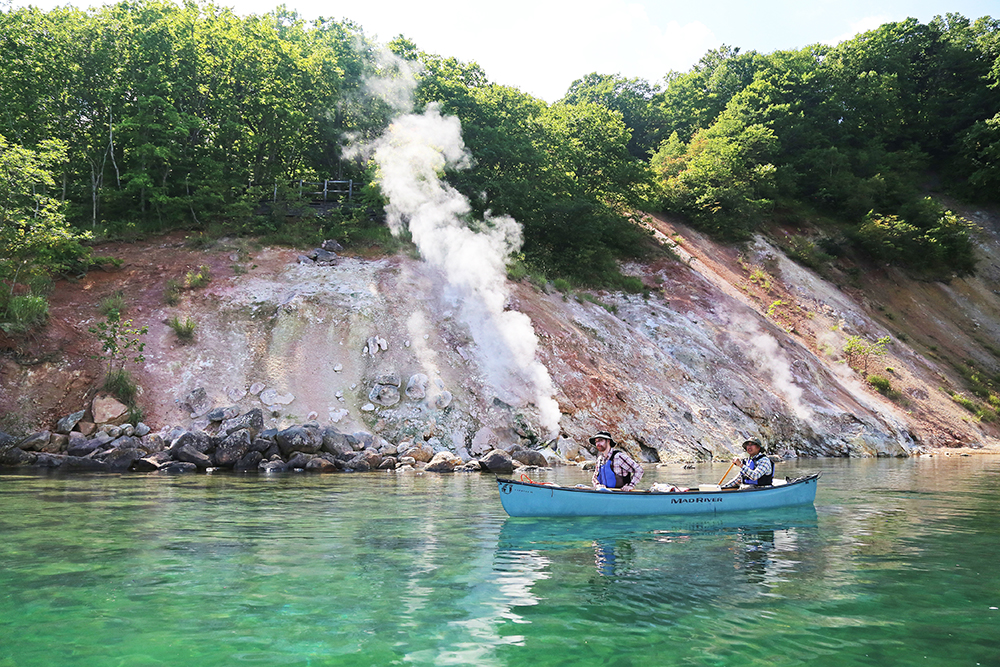 We will canoe all day today, on Lake Kussharo in the morning (3km / 1.9miles, 2 hours) and onto the Kushiro River in the afternoon (5km / 3.1miles, 3 hours). We will start off at the foot of Wakoto Hanto, a small peninsula that was once an island floating in the lake. It is easy to imagine Wakoto Peninsula being formed by volcanic activity, as we explore the peninsula in our canoes we will witness steam vents and hot springs surging from the ground on the shore. Our lunch will be set up once we land near "Oyakotsu Jigoku", where we will enjoy locally produced vegetables and eggs cooked in geothermal steam!
After we enjoy lunch and a foot spa in the natural hot springs, we will head for the start of the Kushiro River, the water source which feeds Kushiro Shitsugen Wetland. We will enjoy a leisurely canoe downstream on the pristine water until we reach the Biruwa Bridge, where we bid farewell to the canoes and transfer by van for 40 mins to Yoroushi Onsen. Our evening accommodation will be popular with bird lovers, as Blakiston's fish owls capriciously turn up to feed along the river running by our accommodation. We dine at our lodgings a traditional Japanese course meal, prepared with bounties from the sea and mountains. Yoroushi is a peaceful hot spring village nestled in the forest, here you can enjoy soaking in the outdoor onsen listening to the sound of the river.
DAY 3
This morning we travel in the van for an hour to Notsuke Peninsula, where we take part in a guided nature tour to observe the native wildlife living in the unique environment of the sand spit extending 28km / 17 miles in length. There are more than 66,000 water birds that visit the peninsula during the migrating season, this significance was recognised as a Ramsar Site in 2005. We will enjoy walking for about 1.5 hours in total, before departing for Shibetsu Ichani to have a special lunch. The history of the local people's relationship with salmon goes back thousands of years, the salmon was and still is today, the backbone of the lives of Shibetsu people. We will have "ochazuke", rice with salmon in broth, in an old salmon fisher's homestead. After lunch, we head north for Rausu by van for 45 mins, our home for the next two nights. On the way we make a brief stop at the river to look for salmon swimming upstream. Rausu is a thriving fishing village famous for its kelp and sea urchin, and also serves as the eastern gateway to Shiretoko National Park.
DAY 4
After breakfast, we will board a local fishing boat for 3 hours to explore the Rausu-side coast of Shiretoko Peninsula. The benefit of taking a small boat is that we can travel in the shallow waters, close enough to the shore so we may be able to sight "higuma" Ezo brown bears wandering in search of food, often salmon in the month of September. The Rausu coast also features a deep ocean trench, making it a favourite home for marine mammals such as sperm whales and Dall's porpoises. Once we return from the boat trip, we will have lunch at the boat captain's guesthouse which was once a homestead for kelp workers. After we enjoy lunch and chatting with our hosts, we will hop in the van to traverse the Shiretoko Pass to Utoro, on the western side of the peninsula. Shiretoko is renowned for its high population density of Ezo brown bears. Shiretoko Five Lakes, where we will walk in the afternoon, is not an exception, we will receive a mini lecture before heading into the bear habitat. We aim to complete the entire walkway to visit all the Five Lakes, unless the walkway is closed due to the presence of a bear on the trail. Tonight we as a group will dine out at a local bar restaurant in Rausu town.

DAY 5
Today we have an easy morning as we travel south in the van for 2.5 hours to Hamanaka Town, a prosperous fishing and dairy farming town located on the southern coast of Hokkaido. We call into scenic Cape Kiritappu and its lighthouse briefly before we meet up with the local fishermen's families to have hands-on lunch. We will try our hands at making "dashi", kelp stock that is used for making miso soup, as well as at preparing sea urchin. We will enjoy the seafood lunch together with the local families, fuelling up for our late afternoon canoeing on the Kiritappu Wetland for 1.5 hours (approx. 4km / 2.5miles). Though the scale of the wetland is not as significant as Kushiro Wetland, Kiritappu offers an attractive setting for canoeing in narrow river channels, allowing us to float peacefully and feel closeness with the wetland ecosystem. Dinner will be provided by our local canoe guide, and depending on the group size, the group may be split into two separate accommodations (they are only 300m / 990ft apart).
DAY 6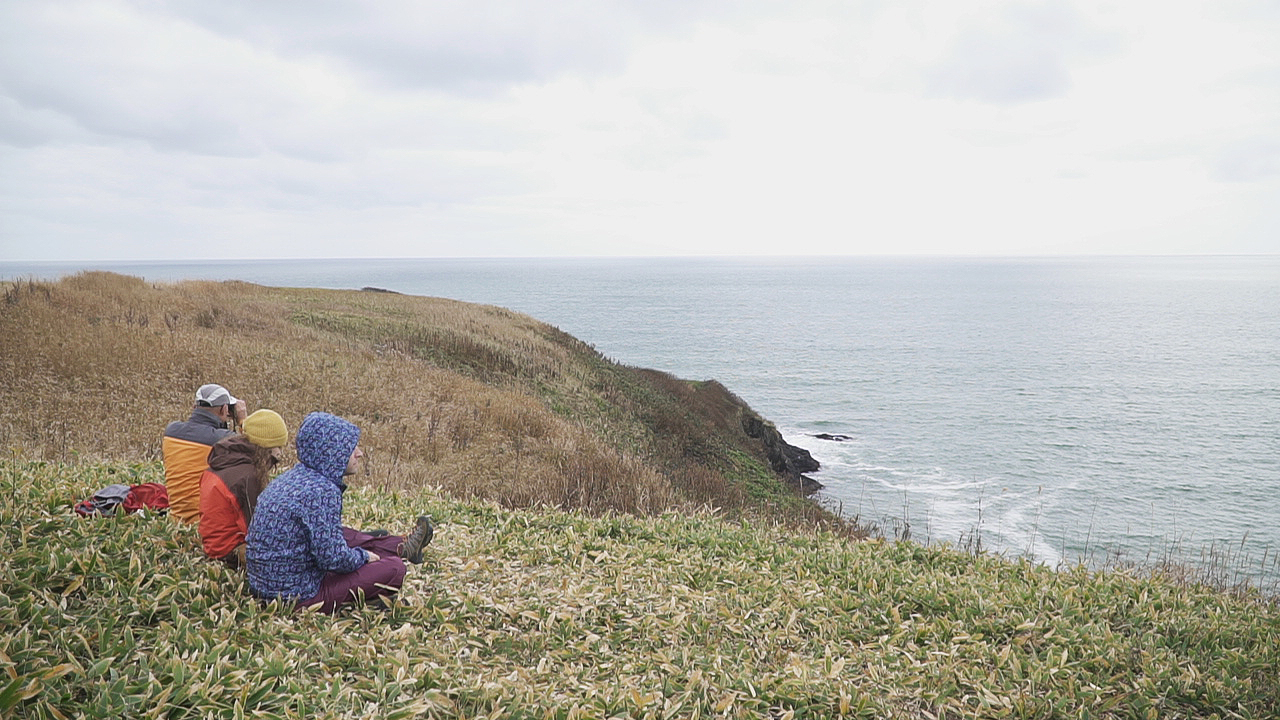 There are two options you can choose from for your main activity today: a guided bird watching tour or a tour to the uninhabited island of Kenbokki. Both tours start at 9:30 am and finish at 12:30 pm, and are guided by local specialists and operated in small private groups up to 6 or 9 people respectively. After breakfast at our accommodation, we will divide the group into two, and each group will take the different tours separately.
The bird watching tour will take you to different kinds of bird habitats; the forest, coast and wetland, to observe the diversity of bird life found in Kiritappu. Needless to say, this tour will be a perfect fit for those who want to observe more birdlife. Kenbokki Island is accessible in 10 mins by boat, there used to be a farm and a small population in the old days, but the island has been uninhabited for at least 50 years. This tour will be suited for those who would like more walking in untouched nature.
We reunite for a group lunch at a local farm restaurant to taste the local produce as well as the dairy products that this region is famous for. In the late afternoon, we will be back at our accommodation and be introduced to the conservation efforts made by Kiritappu Shitsugen National Trust and the accommodation owner Mr Katsuya Urita. We celebrate the final night with a hearty dinner prepared by our host using the local produce.
DAY 7
Today we'll have a relaxing morning and leave our accommodation at around 10am. We say goodbye to our hosts and then drive for about 40 mins to the neighbouring town of Akkeshi, a mecca for oysters. The oysters were naturally occurring around the Akkeshi Bay in ancient times, with the coastal wetlands retaining the rich nutrients in the water. The development of oyster aquaculture today makes it possible for us to savour this local delicacy throughout the year. For our lunch, we have a go at shucking oysters and enjoy oyster meals. We will then make our way to Kushiro by the van and then catch a train to Sapporo in the early afternoon. The train will arrive in Sapporo just after 6 pm and we will say our goodbyes at the station.