Around Daisetsuzan | 6 Day Hiking Tour
Designated as Japan's National Park in 1934, Daisetsuzan holds a special place in the hearts of the people of Hokkaido. The park covers over 2,300 square kilometres (570,000 acres) -bigger than the size of Tokyo!- and is home to a dramatic mountain range, giving Daisetsuzan the nickname "the Roof of Hokkaido".

Keigetsu Omachi, a writer of the Meiji and Taisho periods (late 1800s through early 1900s), traversed these peaks long before a trail had been established. He famously said, "To understand the height of a mountain, climb Mt. Fuji. To understand the vastness of a mountain, climb the Daisetsuzan mountains."

On this itinerary we discover the best of the vast Daisetsuzan National Park. We traverse between the two prime peaks of Mt. Asahidake and Mt. Kurodake in its northern part, and we explore as far south as Lake Shikaribetsu. This tour will be perfect for hiking enthusiasts who also enjoy cultural exploration and water activities between hiking.

Asahikawa city, Kamikawa town, Higashikawa town, Kamishihoro town, Shikaoi town
No. EM000018 Around Daisetsuzan | 6 Day Hiking Tour
Area
Asahikawa city, Kamikawa town, Higashikawa town, Kamishihoro town, Shikaoi town
Length
6 days
Price
From JPY 570,000
Season
July - September
Group size
Minimum: 4 Maximum:10
Activity level
4*
Activities
• Mountain climing
• Hiking
• Rafting
Meeting point
• JR Asahikawa Station
Price includes
• 5 nights accommodation 
• 5 breakfasts, 6 lunches, 5 dinners
• Ainu cultural experience
• Cable car tickets
• River rafting in Sounkyo Gorge
• Soba making experience
• All transport as described in the itinerary 
• Snacks and refreshments
• English speaking Japanese guide(s)
Clothing
• Waterproof jacket and pants
• Mid to high-cut hiking boots
• Fleece or down jacket (even in the summer the temperature can drop below 10°C)
• Thermal layers top & bottom
• Base layers top & bottom
• Spare pairs of socks
• Gloves, beanie, and other items to keep you warm
• Sun hat
Items to bring
• Sunscreen
• Water bottle or hydration system of more than 2L
• Head torch
• Quick-dry hand towel
• Toiletries
• Personal medications
• Rain cover for backpack
• Backpack with enough capacity to carry all the above
• Sunglasses
Traveler's Digest
DAY 1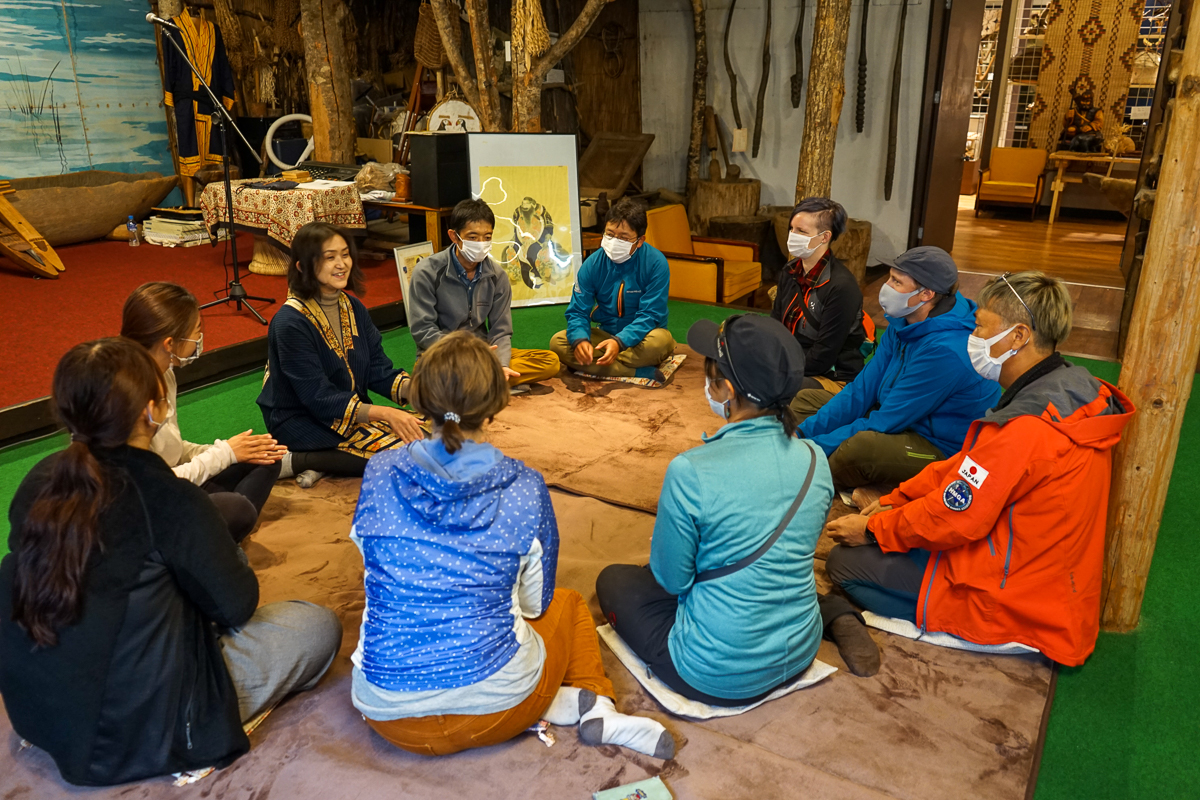 Your group will meet at around 10am in Central Asahikawa. Once everyone is together in Asahikawa, we'll spend some time to get to know each other and the programme for our upcoming adventure before heading off to Mount Arashiyama to warm up our legs.
Mount Arashiyama is an urban forest park, popular with Asahikawa locals for its accessibility and the panorama of the city from the top. For the local Ainu (the indigenous people of Hokkaido), this is a special place known as "ci-nomi-sir" in their language. They perform an annual ritual at the end of May here, blessing the Gods and praying for another year full of peace and happiness.
After our hike, we will have lunch with the Ainu in a replica of a traditional house called "cise" and learn about their culture, history and how they relate to nature in their beliefs and lifestyles. In the late afternoon, we will travel by van for approximately one hour to Asahidake Onsen situated at 1,100m/3,600ft above sea level. We stay the night here in the crisp mountain air enjoying the natural hot springs fed from Mount Asahidake.
DAY 2
Asahidake Onsen is a popular entry point to Daisetsuzan National Park. The park is Japan's largest in size, and one of the first designated as a National Park in 1934. While Daisetsuzan is typically known as the Roof of Hokkaido, in the Ainu world, it is known as "kamuy-mintar", meaning the Playground of the Gods. We make our way into this sacred location by cable car to Sugatami Station at 1,600m/5,250ft, then start climbing to the summit of Mt. Asahidake (2,291m/7,516ft), the highest peak in Hokkaido. Our journey continues on the outer ring of the majestic Ohachidaira volcanic caldera, which was formed by an eruption about 30,000 years ago. In the afternoon, we set foot on the summit of Mt. Hokkaidake (2,149m/7515ft) and Mt. Kurodake (1,984m/6510ft), and then descend into the Sounkyo Gorge with the help of a chair lift followed by another cable car. Sounkyo Gorge is a picturesque onsen village nestled between the mountains and the cliffs, making it a popular destination for onsen, hiking, skiing and our welcome home for the night.

DAY 3
Today we give our legs a rest from hiking and raft down the Ishikari River in the Sounkyo Gorge. The unique geographical feature of this gorge is the columnar joints rising straight from water level, carved over a long period of time by Ishikari River. Being the third longest river in Japan, the Ishikari flows 268km (166 miles) from the Daisetsuzan mountains to the Sea of Japan. Since the local Ainu people used to catch salmon here, the river carries special significance as an important source of food and is still used for religious rituals today. We raft this significant river for a half-day in the morning, and then travel by van for an hour to Daisetsu Kogen Onsen. We stay at a historic inn which stands alone in the middle of the Daisetsuzan mountains with very few people around. We highly recommend bathing in the open-air spa at night and marvelling at the incredible night skies of Hokkaido!
DAY 4
Daisetsu Kogen serves as a trailhead for the popular Kogen Numa (alpine tarns) hiking trail. This area is far from civilization and home to a great number of native brown bears, higuma, which are often spotted by hikers here. Before we set out on the Kogen Numa hiking trail, we receive a safety briefing at Higuma Information Centre about the latest sightings and the rules to respect the wildlife and stay safe in higuma territory. Situated between 1,230m-1,460m (4035ft-4790ft) above sea level, the Kogen Numa provides opportunities to observe alpine flora and over a dozen alpine tarns of various sizes scattered along the trail. Once we return from our hike, we board our van to transfer to Nukabira Onsen, the hot spring village situated by Lake Nukabira. We overnight at a historical hotel that has been renovated into a modern Japanese-style inn and is run by a friendly local family.
DAY 5
We'll kick the day off with a drive to neighbouring Lake Shikaribetsu on a road which is only open during the snowless months from April to October. After approximately 30 mins, we'll arrive at the start of the trail to Mt. Hakuunzan on the shore of Lake Shikaribetsu. We will take a loop walk to the top of Mt. Hakuunzan (1,186m/3,890ft) and back on the lakeshore trail, which usually takes about 3 hours to complete. From the summit there's a stunning view of Lake Shikaribetsu and if we are lucky, a chance to spot the northern pika (rock rabbit) in their rocky dwellings. We hop in the van again and head for our accommodation in the Shikaribetsukyo Gorge. This site is cherished by outdoor onsen lovers because of its remote location and authenticity of the natural hot springs. The upper valley is home to several secluded outdoor onsen sites formed by the river. If you feel up for an extra excursion this afternoon, your guide will lead you on a walk, taking bathing suits and towels with us to revel in this 100% natural onsen experience.
DAY 6
Today is our last day and we wrap up the tour with a cultural experience before making our way to Sapporo. We travel by van for an hour to Shintoku Town, recognised as the soba noodle capital. This region, known as Tokachi, was colonised by farmers from the mainland around 120 years ago. One of the first crops they tried to cultivate after clearing the forest was the soba buckwheat, due to it being a fast-growing and low-maintenance crop that was suited well for the early days in agricultural development. In Shintoku Town, not only will we taste fresh handmade soba noodles, but we'll also learn to make them ourselves!